Yerbabuena in Madrid Spain
Yerbabuena in Madrid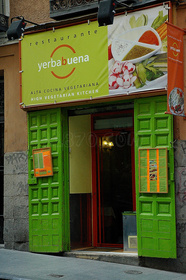 Yerbabuena is not a typical vegetarian; they cook with high quality ingredients, always with a delicious sauce, cheese, and many other products.
It's strong on salads, and its menu of the day (€10) won't leave you hungry an hour later. You will get full easily!
The beautiful presentation of the dishes must be seen, with all that colors, fragrances and with a very detailed collocation of the food.
Even the decoration of the restaurant is beautiful, with green walls and very warm workers.
Just enjoy it!
Yerbabuena in Madrid Spain
Address :
Bordadores, 3
Zip code :
28013
City :
Madrid - Spain
Area :
Centro
Website :
Yerbabuena - Madrid
Phone :
+34 915 480 811
Metro/Bus :
Metro: Sol,Opera
Your comments : Yerbabuena in Madrid