Sopa Madrid - Sopa is a vegetarian restaurant and shop in Madrid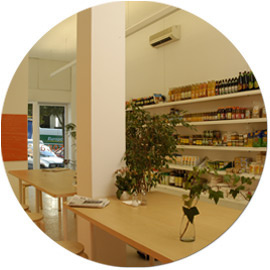 Sopa in Spanish means Soup. Sopa is based on a new concept in economic and organic food made out of Soups as the star dish. This new concept joins together three qualities: health, economic and fast. The Soups are complemented by different kind of cereals that change every day, rice, cuscus, quinoa, espelta, vegetable pies, salads and hot and cold sandwiches. The food can be eaten inside or to take out. Try as well delicious and hot sandwiches, vegetable pies, legumes and vegetables…
You can find also at Sopa, a wide selection of organic products like oils, vegetables, flour, salt, and so on can be found in the shelves. In addition, a peculiar selection of products is available: smoked goat cheese from Isla de la Palma, pepper jam, almond mayonnaise…
But Sopa was born with a double purpose, to show JORGE MORALES silver Jewelry collection that is available in well-know stores like Paul Smith, London. Colette, Paris. Verve, New York and other fashion accessories like handbags, shirts, sunglasses that are also design by Jorge Morales. So you can see and buy Jorge jewelry as well in the shop.
Caution: a bit far from city center..
Sopa Madrid - Sopa is a vegetarian restaurant and shop in Madrid
Address :
Nieremberg, 23
Zip code :
28002
City :
Madrid - Spain
Area :
Centro
Website :
Sopa - Madrid
Opening hours :
From 9am until 9pm Monday through Friday. Saturdays from 11am until 9pm. Sundays closed.
Prices :
Around 10€ fro a meal!
Phone :
00 34 91 413 1719
Phone 2 :
fax: 0034 91 413 1719 and 00 34 91 416 1593
Metro/Bus :
Metro: Alfonos XIII (Línea 4) - Prosperidad (Línea 4) - Concha Espina (Línea 9) / Bus:Av. Ramón y Cajal: 43, 52, 120 - C/Alfonso XIII: 40, 43 - C/López de Hoyos: 9, 73 -C/Príncipe de Vergara: 16, 29, 52