Safety advice in Madrid
Safety advice in Madrid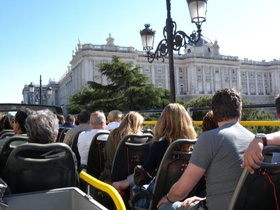 Madrid is safe.
Violent crime is almost unknown in Madrid, but bag-snatching and pickpocketing are rife – the former especially occurs in touristic areas and metro.
To avoid becoming a victim, follow these tips
Be careful in the street :
preferably use a small bag or a waist-bag / fanny-pack rather than a backpack
take little cash with you
do not put your wallet in your back pockets
if an assailant tries to snatch your bag, do not resist, or you may be injured
beware of individuals who may divert your attention in order to steal your personal belongings, for example: be ware anyone trying to clean something off your shoulder or sell you a newspaper. Those wanting to swap a coin for one from your country may also try to empty your wallet.
Wherever possible, choose bank cashpoints protected by a door which limits access to one person at a time. Keep a note of the numbers of your traveller's cheques and credit cards separately.
Hotels and apartments in Madrid often provide safe boxes, either in the room or at reception - use them!
Your comments : Safety advice