Wagaboo "Fun Eating" - Madrid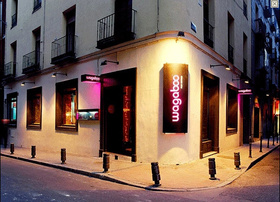 Wagaboo "Fun Eating" is the latest restaurant of the famous creator of restaurants in Madrid, Ignacio Gracia de Vinuesa.
Walls of naked brick, metal structures and wood parquet floor. Industrial environment and world food at the menu: one likes his Peruvian ceviche just like his Moroccan tagine.
Very good pricing...Really worth it!
Wagaboo "Fun Eating" - Madrid
Address :
Gravina, 18
Zip code :
28004
City :
Madrid - Spain
Area :
Centro
Email :
contact
SPAMFILTER
@wagaboo.com
Website :
Wagaboo - Madrid
Opening hours :
Open from monday to sunday from 9am to 11pm and 12pm friday and saturday.
Prices :
Menu at 9€ with drinks and coffe!!
Phone :
00 34 915 316 567‎
Phone 2 :
Central de reservas: 902 885 363
Metro/Bus :
Metro:Chueca