Queen Food and Music in Madrid Spain
Queen Food and Music in Madrid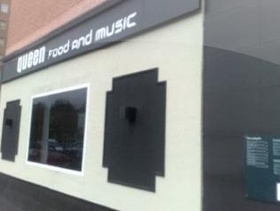 Queen Food and Music in Madrid is known for its delicious and tasty hamburguers. But you can also ask for a salad, an aperitif and many kind of sandwiches.
The highlight of this place is the music. You can enjoy the best music until 3 in the morning!
A perfect combination always with a very modern decoration with some pop-art objects and big lamps holding from the roof.
Queen Food and Music in Madrid Spain
Address :
San Modesto, 34
Zip code :
28034
City :
Madrid - Spain
Area :
Fuencarral
Website :
Queen Food and Music - Madrid
Opening hours :
Opened until 3am every day. Friday and Saturday opened until 3.30am
Prices :
From 15€ to 25€
Phone :
+34 91 358 05 42
Metro/Bus :
Metro: Begoña
Your comments : Queen Food and Music in Madrid