Naval Museum of Madrid Spain
Naval Museum of Madrid Spain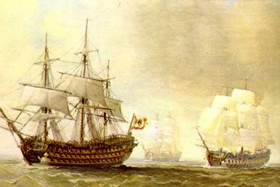 The end of the Naval Museum in Madrid is to show the maritime history of Spain.
It collects the Spanish naval history, provides an overview of the navies of other countries and is an important collection formed by ethnographic objects collected by Spanish sailors in their travel and a series of objects and works of art with which to delve into issues such shipbuilding, marine science or marine science.
The Museum has enabled a lift for wheelchairs. Disabled access. There are wheelchair accessible to the public. The museum has no slogan.
Guided tours are offered for groups such as the general public by cultural volunteers, Tuesday to Friday from 10:30 to 14:00 h. Book: It is essential to reserve a minimum of one week on the phone 91 523 87 89. Duration: 1.5 hours
Naval Museum of Madrid Spain
Address :
Paseo del Prado, 5 (Entrada por Montalbán, 2)
Zip code :
28014
City :
Madrid - Spain
Area :
Centro
Email :
museonavalmadrid
SPAMFILTER
@fn.mde.es
Website :
Naval Museum - Madrid
Opening hours :
Tuesday to Sunday from 10:00 to 14:00 h. Summer hours: August closed. Closed: Every Monday, January 1, Thursday and Friday, 1 and May 15, July 16, August, November 9, 24.25 and December 31. On November 9 the museum will be closed
Prices :
Gratuita para todos los ciudadanos. Es necesario la acreditación con D.N.I o pasaporte.
Phone :
91 379 52 99 - 91 379 43 93
Phone 2 :
Fax: 91 379 50 56
Metro/Bus :
Metro: Banco de España.
Your comments : Naval Museum of Madrid