The Prado Museum in Madrid Spain
The Prado Museum in Madrid Spain - in Spanish "Museo del Prado"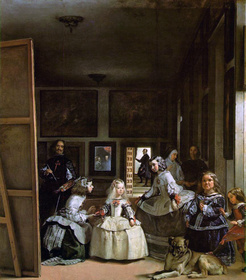 The Prado Museum is a museum and art gallery located in Madrid. It features one of the world's finest collections of European art, from the 12th century to the early 19th century, based on the former Spanish Royal Collection. Founded as a museum of paintings and sculpture, it also contains important collections of more than 5,000 drawings, 2,000 prints, 1,000 coins and medals, and almost 2,000 decorative objects and works of art. Sculpture is represented by more than 700 works and by a smaller number of sculptural fragments. It is one of the most visited sites in Madrid.
With about 1,300 paintings on display in the museum, the museum's world class status is secured. The Prado has easily the world's finest collection of Spanish painting, with large numbers of the finest works of Diego Velázquez and Francisco Goya, as well El Greco, Bartolomé Estéban Murillo, Jusepe de Ribera, Francisco de Zurbarán, and most other leading Spanish old masters. There are also large groups of important works by the Dutch painter Hieronymus Bosch (a personal favorite of King Philip II of Spain), Titian, Peter Paul Rubens, Raphael, and Joachim Patiner. Fine examples of the works of Andrea Mantegna, Botticelli, Caravaggio, Guido Reni, Albrecht Dürer, Rembrandt, Orazio Gentileschi, Artemisia Gentileschi, Veronese, Hans Baldung Grien, Fra Angelico, Antonello da Messina, Van der Weyden, Nicolas Poussin, Claude Gellée, Thomas Gainsborough, Thomas Lawrence, and many other notable artists are also on display in the museum.
The best known work on display at the Prado is Las Meninas by Velázquez. Velázquez not only provided the Prado with his own works, but his keen eye and sensibility was also responsible for bringing much of the museum's fine collection of Italian masters to Spain.
The Prado Museum in Madrid Spain
Address :
Calle Ruiz de Alarcón, 23
Zip code :
28014
City :
Madrid - Spain
Area :
Centro
Email :
museo.nacional
SPAMFILTER
@museodelprado.es
Website :
Museo Nacional del Prado - Madrid
Opening hours :
From 9am to 8pm: Tuesday to Sunday and public holidays.From 9am to 2pm: 24 December, 31 December and 6 January./ Closed:Mondays (including Mondays which are public holidays), 25 December, 1 January, Good Friday and 1 May.
Prices :
General entrance tickets: €6 Reduced price entry: €3 (proof required)/Free entry: Tuesday to Saturday 6 to 8 pm and Every Sunday 5 to 8 pm
Phone :
+34 91 330 2800
Metro/Bus :
Metro: Banco de España , Atocha stations/ Bus: 9, 10, 14, 19, 27, 34, 37, 45

Your comments : Prado Museum Madrid