Royal Palace in Madrid Spain
Royal Palace in Madrid Spain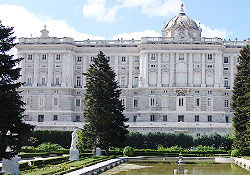 The Royal Palace is a huge and luxurious building built with a base of columns, the official residence of the kings of Spain. Although it is not currently inhabited by the monarchs, it has been for many years the residence where all the royal families have lived.
The Royal Palace has the largest armories in the world. This is where every Wednesday the change of the Royal Guard is celebrated. The appointment is at 11:00 at the Puerta del Príncipe (access from the street Bailén).
Sachetti Juan Bautista was the one who took care of making the final project of the monument. Seventeen years elapse since the first stone was placed in 1738. The building, inspired by sketches made by Bernini for the construction of the Louvre in Paris, is organized around a courtyard surrounded by a portico, a gallery and a Square Arms. For over six floors are allocated the various rooms. The main entrance to the palace is situated on the façade overlooking the main square. It connects to the entrance of the Almudena's Cathedral.
Each king has left his personal stamp on it, shaping a unique stay, which is worth quoting the Throne Hall, both for its significance and for its wealth.
Highlights the entrance to campus from the Plaza de Armas. It is a staircase designed by Sabatini with more than 70 steps.Surroundings with fountains and plants are worth visiting.
At present, in the palace they make royal audiences and dinners as well as famous events like "Día de la Hispanidad" (the Spanish official holiday).
The Royal Palace also offers a gallery of nine rooms with a total exhibiting of 70 paintings with paintors like Luis Morales, John Flanders, Caravaggio, Velasquez and Sorolla among others.
Royal Palace in Madrid Spain

Address : Bailén, s/n
City : Madrid - Spain
Area : Centro
Opening hours : Summer (April-September): Monday to Saturday from 09:00 to 18:00 hours, Sundays and public holidays from 09:00 to 15:00 hours. WINTER (October-March): Monday to Saturday from 09:30 to 17:00 hours, Sundays and public holidays from 09:00 to 14:00 hours.
Prices : Official Rooms, Royal Armory and Pharmacy : Free, 8 €, guided tour: 10 €. - Official rooms + gallery of paintings: a guided tour, € 11 (check availability of guides). - Gallery of paintings: guided tour: € 2. - Real Armory: free visit: 3,4 €.
Phone : (+34) 91 454 88 00
Metro/Bus : Metro: Ópera (L2 y L5) / Bus: 3, 25, 39 y 148 / Cercanís: Príncipe Pio
Your comments : Royal Palace in Madrid