Puerta del Sol in Madrid Spain
Puerta del Sol in Madrid Spain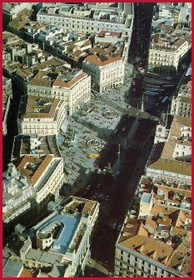 Puerta del Sol is the center of Madrid, central Spain, the "zero kilometer", where the country's roads begin. This is a place with many shops and shopping malls.
In the fifteenth century, the Puerta del Sol was one of the accesses to the fence that contained the medieval town of the city. This fence was headed by a Sun, indicating that the door looked to the release.
Represents a symbol of the city and the country as it is here, year after year, were we celebrate the New Year with its clock tower, now headquarters of the Government of the Community of Madrid.
In the square have been very important events, such as the assassination of the President of the Council of Ministers Jose Canalejas, the declaration of the Second Republic, and so on.

Your comments : Puerta del Sol in Madrid