Ventas Bullring in Madrid Spain
Ventas Bullring in Madrid Spain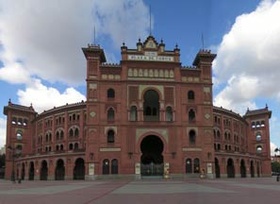 The Ventas Bullring or Plaza de Toros de las Ventas (in Spanish) is the Spain's largest bullring and third largest in the world.
Opened in June 1931 and designed by architect José Espeliú.
This place holds bullfights every Sunday from March to late October. Some important festivals are also done in August 15 or October 12.
Tickets entrance phone number 902 15 00 25
See also our Plaza de Toros las Ventas photo tour
Ventas Bullring in Madrid Spain
Address :
c/ Alcalá, 237
Zip code :
28028
City :
Madrid - Spain
Area :
Centro
Website :
Ventas Bullring - Madrid
Phone :
91 356 22 00
Phone 2 :
Teléfono de venta de entradas 902 15 00 25
Metro/Bus :
Metro: estación Ventas / Bus: 12, 21, 38, 53, 106, 110 y 146

Your comments : Ventas Bullring in Madrid