Puerta de Alcalá in Madrid Spain
Puerta de Alcalá in Madrid Spain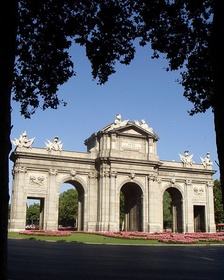 The "Puerta de Alcalá" (the door of Alcalá) is a very significant monument of Madrid.
Sabatini was who designed it, completed in 1778, built to celebrate the entry into the city of King Carlos III, and replacing the baroque door commissioned by Philip III.
Is made of granite from the mountains of Madrid and white stone. It measures 70 feet in height. Is neoclassical, and is formed by three arches and two square doors.
It is located on Independence Square, at the intersection of Alcalá Street, Alfonso XII, Serrano and Salustiano Olózaga and near the Door of Spain, the main entrance to the Retiro Gardens.
Puerta de Alcalá in Madrid Spain

Address : Plaza de la Independencia s/n
Zip code : 28001
City : Madrid - Spain
Area : Centro
Metro/Bus : Metro: Retiro (Línea 2) / Bus: 5,14,27,37,45,150, Buhos (autobuses de noche que circulan por la ciudad de Madrid) N2, N3, N4.
Your comments : Puerta de Alcalá in Madrid