Plaza Mayor in Madrid Spain
Plaza Mayor in Madrid Spain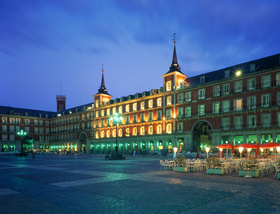 The Plaza Mayor of Madrid is undoubtedly the most beautiful square in Madrid. It was designed by architect Gómez de Mora in the reign of Philip III.
The dimensions of the square is 129 meters long and 94 meters wide, so it is a large square.
Here you can enjoy a lot thanks to the shops and bars where you can drink and refreshing.
Time ago was a place where they had the bullfights, trials and executions of the Inquisition sentenced to death.
At the centre of the square there is an equestrian statue of King Philip III, by Juan de Bolonia.
Your comments : Plaza Mayor in Madrid