Parque del Retiro in Madrid Spain
Parque del Retiro (Retiro Park) in Madrid Spain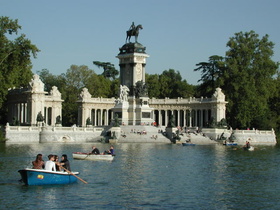 The Retiro Park in Madrid is the great green lung of the city center of Madrid. It was opened in 1631 as a garden playground for sovereign when Philip IV was the king of Spain. However, from 1963 to 1940 works had been released under the direction of the builder Alonso Carbonell, and now this park is like a work art.
We say green lung because it is here where, both habitants from Madrid and abroad, go into this wonderful park for relaxing, walking, boat, seek the shade under the hot sun in summer, playing sports and even go to tai-chi classes, which are held every Sunday from 10:00 to 12:30 close to the wood house that stand between the Puerta del Pacífico and the Rosaleda.
In addition you can enjoy wonderful entertainment offering mimes, jugglers, concerts and see free exhibitions at The Crystal Palace ... Although children tend to enjoy more than anyone else!
It is situated in the heart of the Alfonso XII streets, the Paseo del Duque, Avenida Menéndez Pelayo and Calle de Alcalá.
See also our photo tour of Parque del Retiro

Your comments : Parque del Retiro in Madrid