Monastery El Escorial in Madrid Spain
Monastery El Escorial in Madrid Spain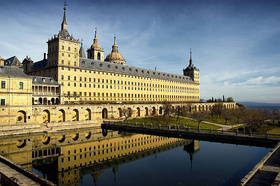 The Monastery of El Escorial (Monasterio de El Escorial in Spanish) is a magnificent building, declared World Heritage and Historic-Artistic building.This pantheon was the historic residence of the Spanish Royal Family when the king Felipe II.
The building works began in 1563, by Juan de Toledo, but he died and Juan de Herrera replaced him, who finished in 1584 and is due to its architecture that today we have a style called "Herrererian"
The material of the monastery is granite stone and is divided into three vertical zones, the central is the Patio of the Kings.
Inside the building you can visit the ministries, the House of Trades, the Company, Infants, and Queen and the library which contains about 45,000 books from the XV and XVI centuries.
Is in the church where the funeral monuments of Carlos V and Felipe II are.
Monastery El Escorial in Madrid Spain
Address :
Calle Juan de Borbón y Battemberg, s/n
Zip code :
28200
City :
San Lorenzo de El Escorial (Madrid) - Spain
Area :
Centro
Email :
info
SPAMFILTER
@patrimonionacional.es
Website :
El Escorial - Madrid
Opening hours :
From October 1 to March 31, Tuesday to Sunday from 10.00 to 17.00 h. From April 1 to September 30, Tuesday to Sunday from 10.00 to 18.00 h. Closed: Monday
Prices :
General: € 10 (guided tour). Reduced: € 3.50. (children between 5 and 16 years, older than 65 years, students with ID and Youth Card). Free: children under 5 years and Wednesdays for European Union citizens.
Phone :
+34 918905902 Tel. +34 918905903
Phone 2 :
Fax +34 918907818
Your comments : Monastery El Escorial in Madrid