El Corte Inglés
El Corte Inglés
El Corte Inglés is the largest department store in Spain with shops all over Spain. In its large department stores one can find almost anything.
El Corte Inglés has many buildings all over Madrid. The quality and service are excellent in all stores, though along with that excellence comes higher prices than other stores.
Along with the department store products, El Corte Inglés offers all types of alternative services: travel agencies, hair salons, real estate and insurance agencies. Each one of their buildings also has specialization in a specific product: fashion, sports, music, etc.
El Corte Inglés is also found in many of the large shopping centers on the outskirts of Madrid, such as Xanadú.
The most centrally located buildings in Madrid are: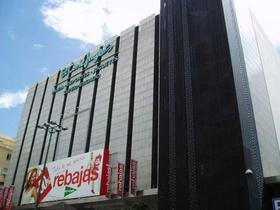 Preciados 1. Music store
Preciados 2. Bookstore
Preciados 3. Fashion
Preciados 9. Sports
Plaza del Callao 2. Home
Princesa 41. Furniture and decoration
Princesa 47. Electronics and sports
Princesa 56. Fashion
Goya 76. Fashion
Goya 85. Home
Serrano 47. Fashion
Serrano 52. Leisure
Castellana 71
Retama 8
El Corte Inglés
Address :
Preciados, 3
City :
Madrid - Spain
Area :
Centro
Website :
El Corte Inglés
Opening hours :
Monday to Saturday from 10 a.m. to 10 p.m.
Phone :
Customer Service: +34 901 122 122
Your comments : El Corte Inglés