Xanadú Commercial and Leisure Center
Xanadú
Xanadú is one of the largest shopping centers in Madrid.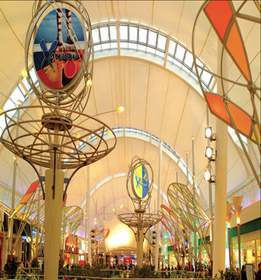 Xanadu is a multi level sports and shopping center located to the south of the city on the side of the A-5 highway. Easily reached by Car, Bus or Taxi it is also provides for disabled people and young children.
It has movie theatres, restaurants and more than 250 stores open year-round.
The main claim Madrid-Xanadú has is the largest indoor ski slope in Europe. The snow park puts out 24,000 square meters on two slopes, one for beginners and one for experts. The ski slopes, open year-round, can be observed from the cafés and restaurants located above the park.
Also available are a go-kart racing track, a mini amusement park, a bowling alley, preschool, movie theatres, all types of shops and a wide variety of restaurants.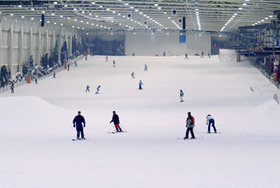 Store hours: Every day, year-round from 10 a.m. to 10 p.m all year except 1 & 6th Jan, 1 May, 25 Dec
Leisure area hours: Sunday to Thursday 10 a.m. to 2 a.m. Fridays and Saturdays 10 a.m. to 4 a.m.
Leisure area closed on following holidays: January 1 and 6, May 1 and December 25.
Xanadú Commercial and Leisure Center
Address :
Autovía A-5, Km 23,5
Zip code :
28939
City :
Arroyomolinos - Spain
Area :
Beyond Madrid
Email :
xanmarketing
SPAMFILTER
@ivanhoecambridge.com
Website :
Xanadú Shopping Center
Opening hours :
Shops: from 10 a.m. to 10 p.m - Leisure: Sunday to Thursday 10 a.m. to 2 a.m. Fridays and Saturdays 10 a.m. to 4 a.m
Phone :
+34 902 26 30 26
Metro/Bus :
By car take the highway A-5 toward Badajoz until exits 22 and 25. Buses run from the Metro Príncipe Pío Station # 528 and 534