Taberna Laredo tapas restaurant in Madrid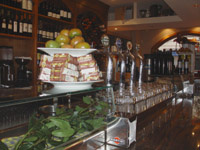 A bit far from touristic area –next to Retiro park and for example next to the Crystal Palace - , try Taberna Laredo, a tapas restaurant, for some one of the best of Madrid. Owner love to say « nuestra pequeña gran Taberna Laredo » and they are right, small by the size but great by the talent!
We enjoyed chef David Laredo's exquisite market-driven dishes. We really enjoyed Salmorejo, a thick gazpacho; seasonal vegetable tempura with sweet sherry vinegar. Perfect seafood at nice prices: Berberechos 10€ / Bígaros 8€ / Coquinas 18€ / Nécoras 6€..
Interesting wine choices, such as Sketch, a biodynamic Albariño among 250-label carta de vinos!!
Taberna Laredo tapas restaurant in Madrid
Address :
Calle Menorca , 14
Zip code :
28009
City :
Madrid - Spain
Area :
Retiro
Email :
info
SPAMFILTER
@tabernalaredo.com
Website :
Taberna Laredo - Madrid
Opening hours :
From 2pm to 4pm and for 9pm to 1am. Closed on sunday
Prices :
Around 20€ but can go up quickly
Phone :
+34 915 733 061
Metro/Bus :
Metro: Ibiza
Your comments : Taberna Laredo