Las Bravas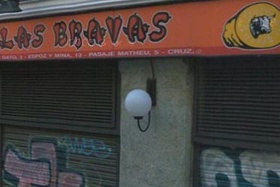 All is said with the name of this tapas bar: Las Bravas in reference to the best patatas bravas of Madrid. The patatas bravas is a fried potato, served with a special sauce. So special here that it is supposedly patented. One will appreciate also squids or tortillas.
In short it is really not expensive, not dietetic at all but.. Terribly good!!
Several addresses because Las Bravas is a chain of tapas restaurants in Madrid.
Las Bravas

Address : Álvarez Gato, 5
City : Madrid - Spain
Area : Centro
Opening hours : From 12am to 5pm and from 8pm to 12pm
Prices : 5€ - 10€
Phone : 00 34 91 532 26 20
Metro/Bus : Sol
Your comments : Las Bravas