Corral de la Morería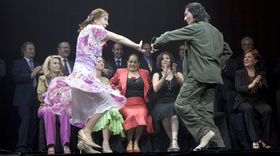 Around for more than 50 years now, the Corral de la Morería is a very serious spot recognized for its Flamenco show. They received visitors such as John F. Kennedy, Ernesto "Ché" Guevara, Marlon Brando, Federico Fellini, Mohammed Alí "Cassius Clay", Pelé, Alain Prost, Nicky Lauda, Pablo Picasso, Salvador Dalí, Ernest Hemingway...And more recently: Sting, James Cameron, Mariah Carey, Richard Gere, Hugh Grant, Sandra Bullock, Dennis Quaid, Joan Cobo.. That is to say!
The cuisine is traditional with dishes like: Grilled Vegetables Bulería, Grilled Ox Entrecote with Padrón Peppers, Cep Mushrooms Cream with Foie-Gras Ravioli and Crispy Iberian Cured Ham, Hake Loin with Pedro Ximenez and Prawn Sauce, Suckling Lamb Shoulder Traditionally Braised with Thymed Crystalised Potatoes… Or simply tapas.
The restaurant opens at 8pm and performances start at 10pm;
Corral de la Morería
Address :
Morería, 17
City :
Madrid - Spain
Area :
Centro
Email :
info
SPAMFILTER
@corraldelamoreria.com
Website :
Corral de la Morería - Madrid
Opening hours :
Open every day - Restaurant opens at 8pm - Nightly performances start at 10pm
Phone :
00 34 91 365 84 46
Phone 2 :
Fax: 00 34 913 641219
Metro/Bus :
Latina
Your comments : Corral de la Morería