Pan de Lujo in Madrid Spain
Pan de Lujo in Madrid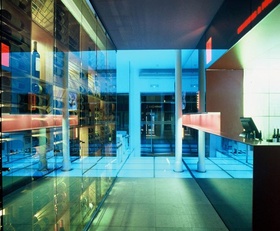 Pan de Lujo is a chic restaurant in Madrid, where you will taste traditional recipes with modern dishes.
This is an old bread factory in the city which they have only preserved the facade, they have reconstructed and designed the hall construction. Its decoration is the highlight of this place: in every table you have different soft illuminations which goes right to the dishes, the colour of the floor changes through the night and it has a terrace in the middle of the restaurant which gives a very warm environment.
The food is very nice with elaborated dishes mixing innovation and traditional recipes, a perfect combination.
The prices are quite high, but you also pay for the decoration!
Pan de Lujo in Madrid Spain
Address :
Jorge Juan, 20
City :
Madrid - Spain
Area :
Centro
Email :
pandelujo
SPAMFILTER
@pandelujo.es
Website :
Pan de Lujo - Madrid
Prices :
50€
Phone :
+34 91 436 11 00
Metro/Bus :
Metro: Serrano
Your comments : Pan de Lujo in Madrid