Alizaque in Madrid Spain
Alizaque in Madrid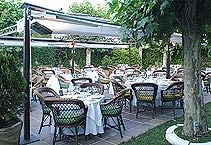 Alizaque is a restaurant in Madrid known for its excelent quality, talking in all terms! There is a spectacular summer terrace and a huge and bright hall.
With its perfect service and the excelent quality of the products this is a restaurant able to satisfy the most discerning costumer. The decoration wants to make you feel as if you were at home but with the best service and food.
It is difficult to think about the best recipe of this place, but some good ones are: the tomato salad, callos (tripes) with chickpeas, steamed filet, fried hake with a black sauce (squid ink),... and then some delicous desserts, simple preparations few complications: cottage cheese with raisin, cafe custard, and many more!
Taste the simplicty but with the best quality!
Alizaque in Madrid Spain

Address : Leopoldo Calvo Sotelo, 44

Zip code : 28224
City : Madrid - Spain
Area : Beyond Madrid
Prices : From 35€ to 50€
Phone : +34 91 357 54 94
Your comments : Alizaque in Madrid