Sergi Arola Gastro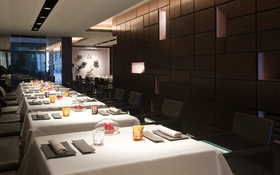 Sergi Arola Gastro is the very new restaurant of Sergi Arola, one of the chefs in vogue in Spain at this moment. Disciple of Ferrán Adriá and Pierre Gagnaire, he belongs to what is regarded as the second generation of Spanish chefs. Arola, which acknowledges being the King of the thermomix, adores to change its menus almost every two months, here as in Barcelona where he obtained a big hit…
We thus advise you to follow its discoveries with the degustation menu at 160€ or the degustation menu with a superb wine selection (235€). You can expect: Terrine of foie gras and duck confit, partrigde rillete " tatin" , Monkfish "All cremat"(burnt garlic cream) with endivies and confit… Sergi Arola Gastro is a 2 star Michelin restaurant.
See also Arola Madrid the other address of Arola in Madrid.
Jackets are required for men!
Sergi Arola Gastro
Address :
Zurbano, 31
Zip code :
28001
City :
Madrid - Spain
Area :
Salamanca
Email :
info
SPAMFILTER
@sergiarola.es
Website :
Sergi Arola Gastro - Madrid
Opening hours :
from 1.30pm to 3:30pm and from 9pm to 11pm - Closed on sunday
Prices :
160 to 235€
Phone :
00 34 91 310 2169 / 00 34 91 310 0394
Phone 2 :
Fax: 00 34 91 310 04 51
Metro/Bus :
Ruben Dario
Your comments : Sergi Arola Gastro