Cubik in Madrid Spain
Cubik in Madrid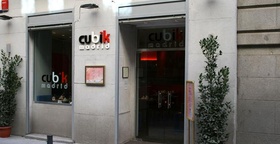 Cubik is a restaurant in Madrid perfect to go with some friends. The decoration is simple but trendy, with bright colours and at night a very soft light and a pleasant background music.
Its innovative cuisine makes them different from other places because here you can try excellent dishes and recipes with affordable prices. At lunch time, during the week, they have a delicious menu for only 10€.
Some successful dishes: fillet lasagne with a Spanish cheese, skewers of bamboo with small cuttlefish, rice in multiple combinaions, meats and fishes... and for dessert "piña colada", chocolate mousse with red fruit culis, ... and many more! They also serve delicious coktails!
They are located just behind the Casino, in the city center.
Don't get afraid with the name of the dishes...!
Cubik in Madrid Spain
Address :
Calle Aduana, 12
Zip code :
28013
City :
Mdrid - Spain
Area :
Centro
Email :
cubik
SPAMFILTER
@restaurantecubik.com
Website :
Cubik - Madrid
Opening hours :
Lunch time from 1pm to 4:15pm. Dinners from 8:30pm to 11:30pm. Weekend dinner from 8:30pm to 12:30pm. Closed on Sundays.
Phone :
+34 915 230 481
Metro/Bus :
Metro: Sol (Líneas 1, 2 y 3)

Your comments : Cubik in Madrid