American Museum in Madrid Spain
American Museum in Madrid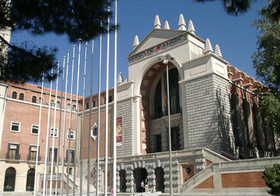 The Museum of America covers the period from prehistory to the present. It has a special emphasis on pre-Columbian archaeology, ethnography and colonial art.
This exhibition, which aims to show the complex American life, is divided into 5 areas:
- Knowledge of America, which explains how they came to its attention.
- The reality of America, an area that shows the evolution of the continent, with the help of a model and a big screen.
- The society, explains the different types of societies and peoples of America that exists today.
- Religion, the main indigenous deities, myths and sacred spaces.
- The communication, the source of the communication, writing primitive.
Besides the museum, this building also contains a library, with a depth of 20,000 volumes, which brings together unique library specializing in history, anthropology, ethnography, geography and American Art, a shop where you can buy all the souvenirs museum and a cafeteria in which, every Thursday will have the opportunity to enjoy the excellent kitchen.
The Museum offers also activities like cycle of conferences, courses, workshops, music and dance, theatre, gatherings iberoamerican, …
Accessibility: The museum has an elevator for access to all floors of the permanent exhibition, as well as wheelchair, following a request to the director of the centre.
American Museum in Madrid Spain
Address :
Avenida Reyes Católicos, 6
Zip code :
28040
City :
Madrid - Spain
Area :
Centro
Email :
museo
SPAMFILTER
@mamerica.mcu.es
Website :
American Museum - Madrid
Opening hours :
Tuesday through Saturday from 9:30 to 15:00 h. Sunday and holidays from 10:00 to 15:00 h. In special occasions the museum opens in the evening (see activities). Open Thursdays from 16 to 19 hours from January 17 to June 26 (except March 20, 1 and May 15). Closed every Monday of the year, January 1, May 1, 24, 25 and 31 December and two local holidays. Free admission: Sunday, May 18 (International Museum Day), October 12 (National Holiday of Spain), December 6 (Day of the Spanish Constitution). Library: Tuesday-Friday from 9:00 to 14:00 hours. Closed Saturdays, Sundays, Mondays and holidays. For inquiries in the library are requested to arrange an appointment.
Prices :
General admission: 3.01 € / Reduced: 1,50 € / annual card: 24,04 € / Free: Sunday, May 18 (International Museum Day), October 12 (Fiesta Nacional de España) and December 6 (Day of the Spanish Constitution).
Phone :
91 549 26 41 / 91 543 94 37
Phone 2 :
Fax: 91 544 67 42
Metro/Bus :
Metro: Línea 3 Moncloa (salida Isaac Peral), línea 6 Moncloa (salida Plaza de la Moncloa), línea 7 Islas Filipinas (salida Gaztambide) / Bus: 1, 2, 16, 44, 46, 61, 82, 113, 132, 133 y circular
Your comments : American Museum in Madrid