Museum of Aeronautics and Astronautics or Air Museum in Madrid Spain
Museum of Aeronautics and Astronauticsor Air Museum in Madrid Spain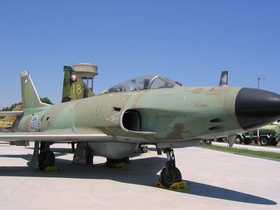 At the Museum of Aeronautics and Astronautics, better known as "Air Museum", we can see those aircrafts that used to fly our skies decades ago.
This museum aims to show objects and recalled the experiences of foreign and Spanish military aircraft.
We can find more than 130 aircraft (fixed wing, rotary wing, gliders and structural components) to models, or simulators wonderful uniforms.
Guided visit: Upon written request, shall be conducted Tuesday through Friday. Those from other provinces or autonomous regions can be formed on Saturday. Tel: 91-509 16 90.
Museum of Aeronautics and Astronautics or Air Museum in Madrid Spain
Address :
Carretera de Extremadura, A-V, Km. 10,500
Zip code :
28024
City :
Madrid - Spain
Area :
Centro
Website :
Air Museum - Madrid
Opening hours :
Daily from 10 to 14 hours, except Mondays.Closed on January 1, Thursday and Good Friday, December 10 (patron of aviation) and December 25. / Souvenir shop: 10 to 13:30 am. / Cafe Hours: 10 to 13:30 am.
Prices :
Free admission
Phone :
91 509 16 90
Phone 2 :
Fax: 91 710 68 47
Metro/Bus :
Autobuses de BLAS que cubren el recorrido entre Madrid, Alcorcón y Móstoles, con salida desde la Glorieta de San Vicente (Estación de Príncipe Pío) y parada frente a la escuela de transmisiones. / Tren: Cuatro Vientos
Your comments : Air Museum in Madrid