Cibeles Place in Madrid Spain
Cibeles Place in Madrid Spain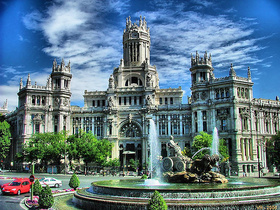 The Cibeles Place or Plaza de Cibeles is also a fountain and a symbol of the capital. It is situated in Madrid, at the intersection of Calle de Alcalá, the Paseo de Recoletos and Paseo del Prado.
Plaza de Cibeles is named after the Greek goddess Cibeles, the wife of the titan Crono and mother of Atis. The place was originally called Plaza de Madrid, but in 1900, the City of Madrid named the Plaza de Castelar, the name was eventually replaced by the current.
The Cibeles fountain was designed by the architect Ventura Rodríguez and created by sculptors Francisco Gutiérrez Arribas and Robert Michel.
Around the square there is the Palacio de Comunicaciones, is near the Palacio de Linares, and the building of the Bank of Spain.
In addition, the Plaza de Cibeles is the famous place where fans of the team of this city celebrated the triumphs.
Your comments : Cibeles Place in Madrid