Cathedral of Santa Maria de la Almudena in Madrid Spain
Cathedral of Santa Maria de la Almudena in Madrid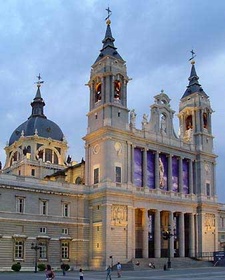 The cathedral of Santa Maria de La Almudena is a stunning temple with a mix of architecture: neoclassical exterior and neogothic interior. Is over 70 meters tall and is built with stone from Novelda (Alicante) and granite from Colmenar Viejo (Madrid).
Its peculiarities are that is the only cathedral in Spain that has been consecrated by a pope and that they took more than 110 years to build it(the King Alfonso XII was the one who laid the foundation stone in 1883).
His first architect was Francisco de Cubas, then passed into the hands of other great artists.
Located in the beautiful city center, just opposite the magnificent Royal Palace.
Cathedral of Santa Maria de la Almudena in Madrid Spain

Address : C/ Bailén, s/n
Zip code : 28013
City : Madrid - Spain
Area : Centro
Opening hours : The cathedral can not be accessed during the liturgical celebrations. Cathedral Open from 10 to 19:30. Mass Schedule Weekdays Afternoon and eves: 19 pm Tomorrow, Sunday and holidays: 10:30, 12 and 13:30 h. Afternoon: 19 pm Hours confessions Morning: 11:30 to 12:45. Afternoon: from 17:00 to 19:30. There are confessions to meet also in French, English, German and Italian.
Phone : +34(91)5422200
Metro/Bus : Metro Opera (línea 2, 5 y R) / Bus: 3,31,50,65 y 148
Your comments : Cathedral of Santa Maria de la Almudena in Madrid