Plaza Norte 2 Shopping Center in Madrid
Plaza Norte 2 Shopping Center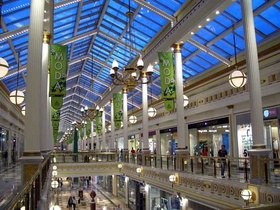 Plaza Norte 2 is set amongst the largest Madrid shopping complex just to the north of the city. The same complex also plays host to a number of independent stores and supermarkets with their own buildings eg Ikea, Carrefour, Decimas however with its 200 plus stores PlazaNorte2 dominates the area.
Designed by the Chapman Taylor London Partners architectural firm, the same that designed Terminal Three of Heathrow Airport, this shopping center offers visitors more than 200 stores, 25 restaurants, cafés and movie theatres.
The most charismatic image of this mall is its impressive 35-meter dome. The center is decorated with Venetian-style lamps, large chandeliers, marble floors, columns, staircases and balconies. The Plaza Norte 2 shopping mall is an excellent example of uniting elements of past centuries with 21st-century technology for the comfort and enjoyment of the visitors.
Plaza Norte 2 is contains a large number of restaurants and bars for both day and night!
Store hours: Open every day from 10 a.m. to 10 p.m except 1 & 6th Jan, 1 May, 25 Dec
Leisure area hours: Sunday to Thursday 10 a.m. to 1:30 a.m. Fridays and Saturdays 10 a.m. to 3 a.m
How to get there: To get to Plaza Norte 2 by car from Madrid, take the highway N-1 toward Burgos until exit 19. Buses to Plaza Norte depart from the Metro Plaza de Castilla Station.
Plaza Norte 2 Shopping Center in Madrid
Address :
Plaza del Comercio
Zip code :
28703
City :
San Sebastián de los Reyes - Spain
Area :
Beyond Madrid
Email :
informacion
SPAMFILTER
@plazanorte2.com
Website :
Plaza Norte 2
Opening hours :
Stores from 10 a.m. to 10 p.m - Leisure from 10 a.m. to 1:30 a.m
Phone :
+34 91 659 39 67
Metro/Bus :
156
Your comments : Plaza Norte 2