Davidelfin in Madrid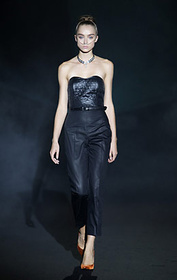 Davidelfin is a brand directed by the young and turbulent Madrid creator Diego David Dominguez Gonzalez. In his two stores one finds from now on two lines quite young: one for the women "sexy and evening", the other for the men resolutely clubwear and streetwear.
Have a look to his website for online sales.
Two stores located at:
- jorge juan, 31
t: 91 700 0453
- san gregorio, 1
t: 91 702 0760
Davidelfin in Madrid
Address :
Jorge Juan, 31
Zip code :
28001
City :
Madrid - Spain
Area :
Retiro
Email :
tienda
SPAMFILTER
@davidelfin.com
Website :
Davidelfin - Madrid
Opening hours :
From 10 am to 2:30pm and from 4:30pm 8:30pm - Closed on sunday
Phone :
00 34 91 700 04 53
Metro/Bus :
Retiro
Your comments : Davidelfin