The National Archaeological Museum in Madrid Spain
The National Archaeological Museum in Madrid Spain
The National Archaeological Museum contains items of value from excavations throughout Spain and also collections of coins and pottery from all eras.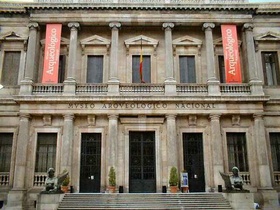 It is located in the Palace Museum and Library, which shares with the National Library.

This museum gives us learn the history of our world through a tour of 34 rooms and about 71 pieces of great historical significance. The archaeological periods illustrate the 22 basic cultural history from the Iberian Peninsula, Ancient Egypt and Classical Greece to the Modern Age.
We can find it from up ceramic pieces created with objects made of porcelain, metal, paint and organic, among others.
The National Archaeological Museum in Madrid Spain
Address :
C/ Serrano, 13
Zip code :
28001
City :
Madrid - Spain
Area :
Centro
Email :
sugerencias
SPAMFILTER
@man.mcu.es
Website :
National Archaeological Museum - madrid
Opening hours :
From Tuesday to Saturday from 9:30am to 8pm. Sundays and holidays from 9:30am to 3pm every Monday. Closed every monday of the year and 1 and 6 January, 1 May, 9 September and 24 , 25 and 31 December. Holidays: 20 and 21 March, 2 and 15 May, 25 July, 15 August, 1 November and 6 December
Prices :
During construction, public access to the exhibition Treasures of the National Archaeological Museum is free.
Phone :
91 577 79 12
Phone 2 :
Fax: 91 431 68 40
Metro/Bus :
Bus: 1, 9, 19, 51 y 74 que tienen parada delante del Museo/ 5, 14, 27, 45 y 150 con parada en el Paseo Recoletos/ 21 y 53 con parada en la Plaza de Colón/ 2, 15 20, 28, 52 y 146 con parada en la Plaza de la Independencia. / Metro: Estaciones Serrano (Línea 4) y Retiro (Línea 2)

Your comments : The National Archaeological Museum in madrid