Bangaloo in Madrid Spain
Bangaloo in Madrid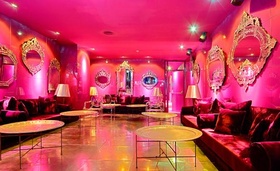 Bangaloo is a perfect concept of nightclub in Madrid: while you are having dinner at La Tavola di Bangaloo the Dj starts to put some quite and chill-out music, to start to warm the ambient. Then, when night arrives, the music becomes more dynamic with funk, disco, house, deephouse, electro, ... But they offer even more, you will be dancing and having a drink in an amazing and exotic ambience: a mix of arabic and modern decoration. One of its room is a "mirrors room", the dance floor is entoured of golden coloumns that change the colour, ...
The advantage to go there is that you have also a restaurant in the same place, so you will be able to enjoy a sophisticated italian cuisine in a well cared ambient. It is called La Tavola di Bangaloo. Regented by the chef Fabio Spadea, they mix Sicilian and Italian flavours.
Come and have a look at its amazing decoration!
Bangaloo in Madrid Spain
Address :
Edificio Eurocentro General Perón, 29 bajo
Zip code :
28020
City :
Madrid - Spain
Area :
Centro
Email :
info
SPAMFILTER
@bangaloo.es
Website :
Bangaloo - Madrid
Phone :
+34 91 417 02 96

Your comments : Bangaloo in Madrid