Casa Fadrique in Madrid Spain
Casa Fadrique in Madrid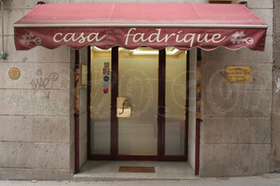 Casa Fadrique is a traditional bar located in the centre of Madrid. When you go down the street, the façade of this bar looks quite dull. But once you get in you realize your good decision: good atmosphere, perfect service and excellent food.
Because is a small place is better to book if you are a group.
Delicious traditional recipes at a very good price!
Casa Fadrique in Madrid Spain

Address : Corredera Baja de San Pablo, 4
Zip code : 28004
City : Madrid - Spain
Area : Centro
Opening hours : Monday to Friday from 1:30pm to 4:30pm. Saturday from 1:30pm to 16:15pm. Closed on Sunday.
Phone : +34 915221792
Your comments : Casa Fadrique in Madrid