Safari Madrid Spain
Safari Madrid Spain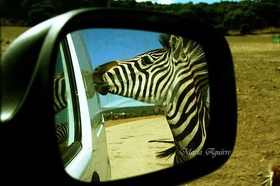 In this Safari you will feel like in Africa but from your car.
You can see the beauty of these animals from their car or a train available on weekends.
Besides these animals do not forget to go through the mini-zoo where you will see that animals that must be enclosed and the reptiles.
Safari Madrid Spain
Address :
Ctra. Extremadura Km 32
City :
Madrid - Spain
Area :
Centro
Email :
safarimadrid
SPAMFILTER
@yahoo.es
Website :
Safari - Madrid
Opening hours :
SPRING: 10.30 h to 18.30 h LABOR, 10.30 h to 19.30 h HOLIDAYS. SUMMER: 10.30 h to 20.00 h WORKING AND HOLIDAYS (until August 31) AUTUMN: 10.30 h to 17.30 h. WINTER: LABOR AND FRIDAY - 10.30 TO 17.30
Prices :
Adults 13€, children 9€
Phone :
91.862 .23.14
Phone 2 :
Fax 91.862.23.76
Your comments : Safari Madrid