Arola Madrid restaurant in Madrid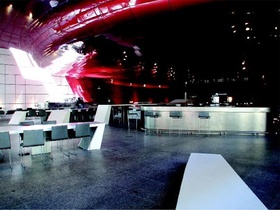 Arola Madrid is one of the new reference marks of the very famous chef Sergi Arola. Sergi Arola former disciple of Ferrán Adriá and Pierre Gagnaire, has indeed invated the restaurant of the Queen Sofia Museum.
Imposing decoration orchestrated by Jean Nouvel for this new extension of the museum. An environment really surprising, kitchen avant-gardist and Mediterranean with tapas like Ibérico pork carpaccio (carpaccio of solomillo de cerdo ibérico), deconstructed patatas bravas for example!! Real modern tapas indeed!!
One can just take a drink or lunch at midday or dine in a more sophisticated way the evening.
Arola Madrid restaurant in Madrid

Address : Argumosa, 43
City : Madrid - Spain
Area : Retiro
Opening hours : Monday: 10.00 h. – 21.00 h. Wednesday to Sunday: 10.00 h. – 02.30 h. Tuesday closed.
Prices : Around 30€
Phone : 00 34 91 467 0202
Metro/Bus : Metro:Atocha
Your comments : Arola Madrid