City Sightseeing Madrid City Hop-on Hop-off Tour with Optional Food Tastings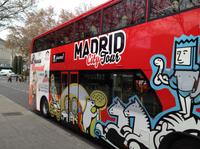 Reviews score
:
Duration : Varies
Location : Madrid, Spain
Discover Madrid's highlights aboard an open-top double-decker City Sightseeing bus. Step aboard and watch the passing sights on both the two interconnecting routes. Admire the spectacular Royal Palace, hop off to visit the Prado museum, and see the mighty Bernabéu stadium. Choose a 1-day or 2-day ticket and hop on and off at any of the 37 stops to create your own sightseeing itinerary. Listen to the informative onboard audio commentary, and upgrade to include a Madrid Essentials Passport to enjoy a string of delicious local wine and food tastings.
Board the open-top, double-decker bus at any of 37 stops around the city. Then, hop on and off as you wish, or remain aboard for the entire loop. The two routes interconnect, so you can switch between them — your ticket is valid on both.
Follow Route 1 (Blue Route) around historical Madrid with its grand royal buildings. Hop off at the Paseo del Prado to visit the magnificent Prado; disembark to explore the Royal Palace, or sit back and admire the Belle Epoque buildings of the Gran Vía, Madrid's main thoroughfare.
Switch to Route 2 (Green Route) to focus on 19th- and 20th-century Madrid. Delve into elegant Salamanca, Madrid's first bourgeois enclave; and travel the Paseo de la Castellana past skyscrapers, museums and the legendary Santiago Bernabéu — home to Real Madrid FC.
Hop-On Hop-Off Tour with Madrid Essentials Passport:
Upgrade to include the Madrid Essentials Passport with your hop-on hop-off tour and experience the Spanish capital like a local! The passport entitles you to a range of Madrid's best culinary tastings, including wine, olive oil and other delicious food experiences.
View the Itinerary for a list of hop-on hop-off stops and Madrid Essentials Passports activities and experiences.
Your comments : City Sightseeing Madrid City Hop-on Hop-off Tour with Optional Food Tastings